What is VATS?
Video-assisted thoracic surgery (VATS) is minimally invasive thoracic surgery. During a video-assisted thoracic surgery procedure, a tiny camera and surgical instruments are inserted into your chest through a small incision in your chest wall. The thoracoscope transmits images of the inside of your chest onto a video monitor, guiding the surgeon in performing the procedure. Its main benefit has been the avoidance of a thoracotomy incision or median sternotomy. This allows a shorter operating time, less postoperative complications, and earlier return to normal activity compared to open surgery. The average length of hospital stay is 1-3 days when compared to 5-7 days for open surgery.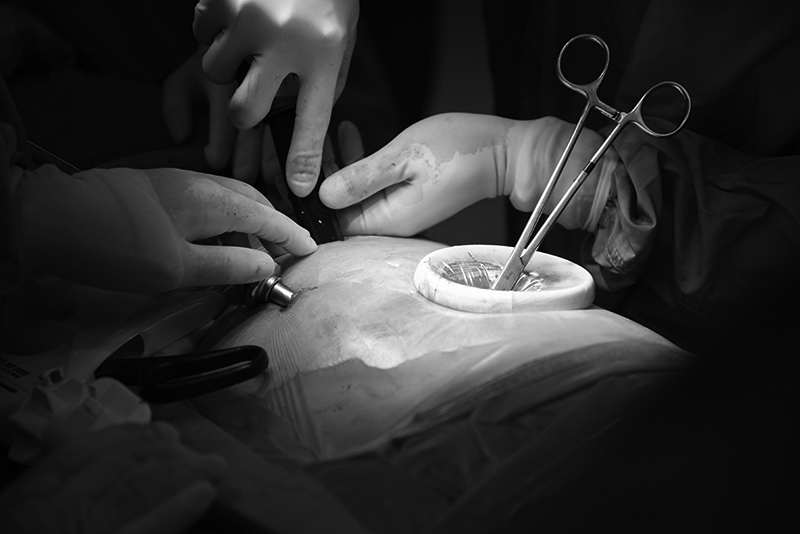 In the past, the surgeons had to make 3-4 incisions for camera and surgical instrument insertions. This so-called baseball diamond approach aligns the camera and instruments to perform a surgery. Although the incisions are smaller than open surgery, the patient still has significant pain during the post-operative period due to the presence of nerves underneath the lower edge of each rib and therefore many small incisions can lead to severe pain.
 
---
Uniportal VATS technique
Ongoing improvements in techniques and instruments for video-assisted thoracic surgery (VATS) has made minimally-invasive uniportal VATS possible. The surgeon has to make only one 3-4 centimeters incision in the chest. The surgeon who performs this technique should have comprehensive experience with VATS procedure. With the uniportal VATS technique, the patient will experience less pain with the same successful outcome as multiple port VATS1-4.

Uniportal VATS can be performed in patients with below conditions.
Lung cancer
Recurrent pneumothorax
Thymoma
Myasthenia gravis
Esophageal cyst
Pericardial cyst
Empyema thoracis
Malignant pericardial/pleural effusion
Esophageal cancer
Uniportal VATS technique can be used in various conditions where pulmonary and mediastinal surgeries are required. There are some limitations in the conditions such as metastatic lung cancer, malignant mesothelioma, and chronic empyema thoracis. As with any novel technique, the success factor is highly experienced surgeons. Bangkok hospital offers comprehensive medical, surgical, and therapeutic services. With a world-class medical staff, we provide innovative technologically advanced care for each patient.
---
Shen Y et al. Single versus multiple-port thoracoscopic lobectomy for lung cancer: a propensity-matched study Eur J Cardiothorac Surg. 2016 Jan;49 Suppl 1:i48-53

Xu GW et al.A prospective comparative study examing the impact of uniportal and three portal video-assisted thoracic surgery on short-term quality of life in lung cancer. Zhonghua Wai Ke Za Zhi. 2018 Jun 1;56(6):452-457

Mu JW et al. A Matched Comparison Study of Uniportal Versus Triportal Thoracoscopic Lobectomy and Sublobectomy for Early-stage Nonsmall Cell Lung Cancer. Chin Med J (Engl). 2015 Oct 20;128(20):2731-5.

Young R et al.  Is uniport thoracoscopic surgery less painful than multiple port approaches? Interact Cardiovasc Thorac Surg. 2015 Mar;20(3):409-14
For more information, please contact